Upcoming Parties:
Coloring Lessons at Nowadays, May 7th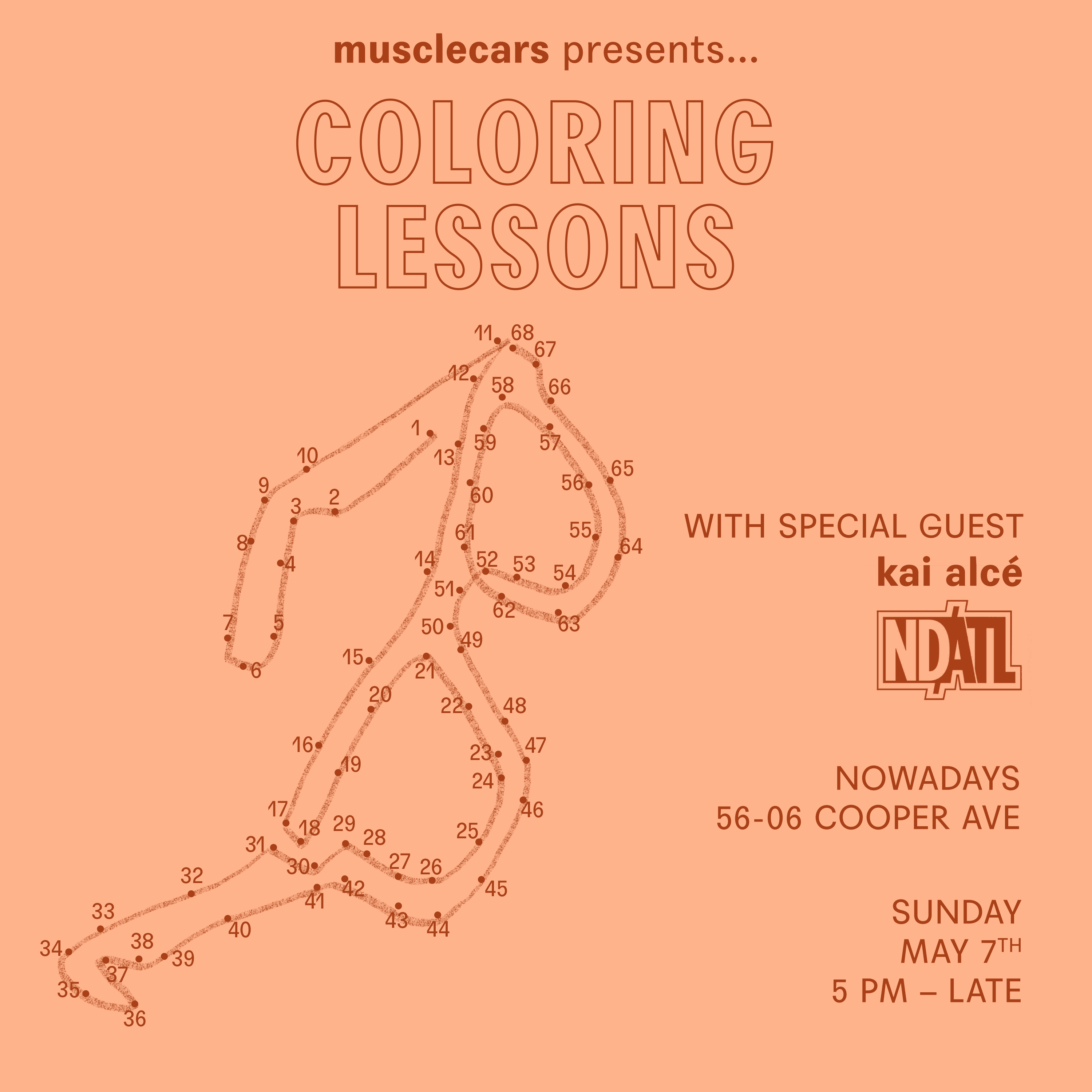 Coloring Lessons is a party crafted from the minds of musclecars (Brandon Weems and Craig Handfield); two born and raised New Yorkers, aiming to add value to their city's community and nightlife culture. Their main goal has always been to construct an inclusive environment for their peers to be free and enjoy themselves. Building a community, a family, centered around a unified love for dance music, positive energy, and getting down. Each party is ensured to be a safe space for their community as a whole to come together, all while sharing the music of their roots. While the party and sound is not genre specific, it is heavily focused around house, disco, jazz, and soul, embracing the musical elements of their black and brown ancestors. The monthly party's intention is to bring New York City's dance music scene back to what it was during the golden era of NY nightlife. They aim to spread the music that has been influential to them, and share it with a younger generation of their peers.
Past guest DJ's have included Josh Milan, Love Injection, Marcellus Pittman, Kenny Carpenter, Ron Trent, the late Carlos Sanchez, and many more.
Coloring Lessons Residents
Hanako was born and raised in Sapporo, Japan and moved to New York City in the early 2010s'. Road trips to Detroit, Pittsburg, Atlanta, Baltimore, Chicago and many other cities formed the open-minded approach to music when she began to collect vinyl. Hanako is a passionate record collector who loves to shift between genres without boundaries.


Lovie's music discovery was born in the digital music age: a young lover of local radio and after-school MTV marathons, her early mixes took shape in the form of burned CDs she composed for friends. In relocating from her hometown of Washington, D.C. to New York in August of 2020, Lovie's unique selection swiftly ushered her into New York's local music scene; she had yet to play beyond the confines of her bedroom when she pitched a monthly show to The Lot Radio, and her show Summer School Radio quickly garnered a devoted following amongst music lovers and local DJs alike. Within a year, she'd earned a Lot Radio residency, and bookings at staple Brooklyn venues like Elsewhere, Black Flamingo, and Nowadays. Lovie's sets guarantee a sweet and soulful selection, as she interweaves soul, disco, and house into a sound that creates warmth, and makes you move.

A few from the archive...